Rapid Joint Relief in
Just 5 days
CLINICALLY PROVEN BY AMA LABS
Just
One
capsule per day!
Works on
KNEES, HIPS, SHOULDERs, Back, ELBOWs, NECK & HANDS
Increase Joint Mobility
Helps with ligament and tendon issues

Rebuild Strength & Density
Reduces muscle stiffness

Improve joint & bone health

100% Plant-based
Buy Now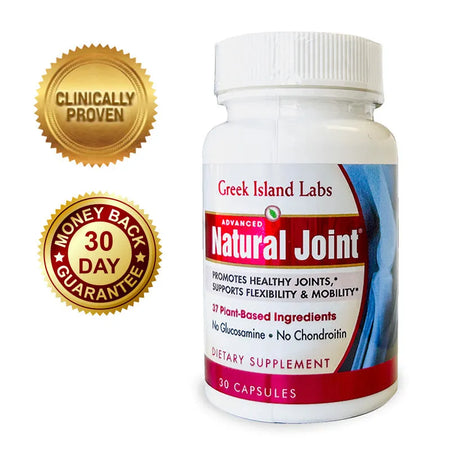 Buy Now
NATURAL JOINT PAIN RELIEF
100% Plant-based
Red Seaweed
Lithothamnion Corallioides derived from red seaweed has been shown to have significant health benefits.

Olive Leaf
Natural botanical product that has been a subject of study since the early 1800's.
Holy Basil
Has been shown to possess powerful adaptogenic properties.
100% Plant-based

Avocado oil
Nutrient-rich fruit that contains Amino Acids, proteins and Vitamins A, D and E.

Grape Seed
Known for its nutrient dense levels of naturally occurring Vitamin C.
Cherry
Contains antioxidants that fight free radicals, thus promoting general health.
Natural Joint Clinical Study
According to a major independent clinical study by AMA Laboratories, Greek Island Labs' Natural Joint demonstrated statistically significant reduction in joint problems by an average of 51.1% within the first 5 days of use with a maximum of 83.3% observed. After 28 days, Natural Joint demonstrated an average reduction in joint discomfort of 82.2%.
(30 day supply)
Recent scientific studies have shown
Glucosmine can be harmful.
A 6-month placebo-controlled trial concluded early that taking glucosamine resulted in increased joint pain. In a December 2016 study published in the American College of Rheumatology, with 164 participants, subjects taking glucosamine and chondroitin reported worsening symptoms associated with pain, according to the WOMAC scale, which measures joint pain, stiffness, and physical function. This led the doctors to end the trial early in the interest of the subjects' health. Furthermore, glucosamine did not prove to reduce inflammation.
For this reason, a top medical professional developed our plant-based Natural Joint supplement -- with NO glucosamine and NO chondroitin!
A published study concluded
Tumeric may damage liver!
A review of individuals enrolled in the US Drug-Induced Liver Injury Network from 2004 to 2022 concluded liver injury due to turmeric appears to be increasing in the United States. This study published in the America Journal of Medicine posited that these turmeric-linked liver injuries may be related to usage patterns and increased combination with black pepper. In some cases, the injuries lead to hospitalization and even death due to acute liver failure.
Rest assured, Natural Joint contains NO turmeric!
Read Customer Reviews
What does Natural Joint Do?
Natural Joint Advanced helps joint mobility, reduces muscle stiffness, & improves strength by assisting Synovial Fluid in your joints.
Increase Mobility

Synovial Fluid's role is to reduce friction between joints which helps them move more easily & with less pain.

Rebuilds Strength & Density

With our all-natural mineral & vitamin rich ingredients, Natural Joint Advanced gives you the boost you need to exercise again to achieve stronger bones.

Reduces Muscle Stiffness

Using organic fruits that are high in antioxidants allows muscles to recover more quickly.

Improves Joint & Bone Health

When used for long term relief, experience the benefits of improved joint and bone health.

Just one Capsule per day!

This is the only joint supplement you will ever need!

RELIEVES pain in knees, hips, shoulders, elbows, hands. & back.
Read Customer Reviews
30-Day MONEY BACK Gurantee.
Your purchase is backed by our 30-Day Money Back Guarantee. If you decide that our product is not right for you, you don't have to pay for it -- even if you have taken the entire bottle! Just contact us by phone at 1-800-449-6615 or email within 30 days of your original purchase to request a return. Our customer service department will be happy to provide you with instructions. As soon as we receive your return shipment, we will immediately refund your purchase, less shipping and handling, and send you an email confirmation. This provides you with no risk, just reward! We believe in the results of Natural Joint and know that you will recommend it to your friends and family so that they can also experience the fantastic results.