Rapid Joint Relief in
Just 5 days
Designed to help your knees
Increase Joint Mobility

Rebuild Strength & Density
reduce muscle stiffness

Improve joint & bone health
Just
One
capsule per day!
Works on
KNEE, HIP, SHOULDER, Back, ELBOWs, NECK & HANDS

100% Plant-based
Buy now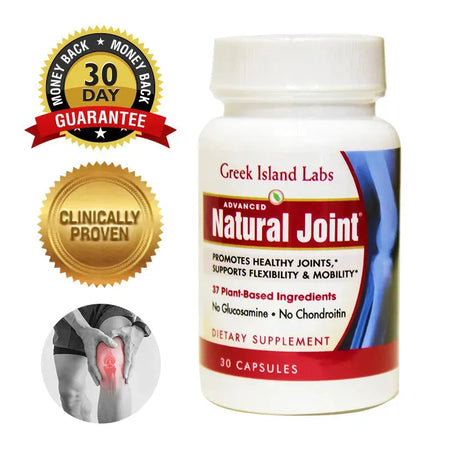 Buy now
Best for relieving
joint pain in:
Knees
Hips
Shoulders
Back
Elbows
Neck
Hands
Natural Joint Clinical Study
According to a major independent clinical study by AMA Laboratories, Greek Island Labs' Natural Joint demonstrated statistically significant reduction in joint problems by an average of 51.1% within the first 5 days of use with a maximum of 83.3% observed. After 28 days, Natural Joint demonstrated an average reduction in joint discomfort of 82.2%.
$45
$39
(30 day supply)
sale!
Select one of these options:
Read Customer Reviews
What does Natural Joint do?
There are more benefits than we can list here. This all-natural joint supplement will increase your standard of living and help you to live pain free!
Increase joint mobility

Feel like your old self and move around freely. Results are noticeable within just 5 days!

Rebuilds strength and density

As we age our joints lose their strength and density. With our all natural ingredients, Natural Joint brings youth back to your movement.

Reduces muscle stiffness

No more anxiety over whether or not you can get up or down. Greatly reduce muscle stiffness and take a spin on the town!

Improves joint and bone health

When used for long term relief, experience the benefits of improved joint and bone health.

Just one capsule per day!

This is the only joint supplement you will ever need!

Relieves pain in knees, hip, back, shoulders, elbows, neck, and hands.
Read Customer Reviews
Natural Joint Pain Relief
100% Plant-Based
Red Seaweed
Lithothamnion Corallioides derived from red seaweed has been shown to have significant health benefits.

Olive Leaf
Natural botanical product that has been a subject of study since the early 1800's.
Holy Basil
Has been shown to possess powerful adaptogenic properties.
100% Plant-Based

Avocado
Nutrient-rich fruit that contains Amino Acids, proteins and Vitamins A, D and E.

Grape Seed
Known for its nutrient dense levels of naturally occurring Vitamin C.
Cherry
Contains antioxidants that fight free radicals, thus promoting general health.
Natural Joint is a supplement for joint pain. It helps repair cartilage, boost joint mobility, increase flexibility, support joint structure and protect joint tissue. It is suitable for anyone with joint pain, joint inflammation, stiff joints or even sore muscles. Natural Joint can ease the discomfort that comes with age, added weight, or sports related stress. Most customers see results within 3 days. The results are so impressive that we now have over 19,000 happy customers! Try Natural Joint now and see guaranteed results in just 5 days!
-Dr. Mark J. Binette M.D.
Try risk free for 30 days!
We are so confident in our product that we offer a 30-day money-back guarantee on all of our products. Try Natural Joint Advanced risk free for 30 days!